I
LOVE
breakfast for dinner! A friend of mine gave me the idea to name it "Brinner" and that name has stuck. Today, I'd like to share with you a recipe that I've been making for as long as I can remember. I'm sure I started off with a real recipe once upon a time, but I have since then developed my own. I typically don't measure anything because it is very difficult to mess this one up, but I will share with you what I measured out tonight while I made it.
I made our
No-Knead Bread
recipe and when I realized just how delicious this bread was, I knew instantly that I would have to try it out with French Toast and I was right; it held together beautifully and tasted delicious.
MTM's Simple French Toast
Step 1:
Slice bread into 1/2 to 1 inch pieces.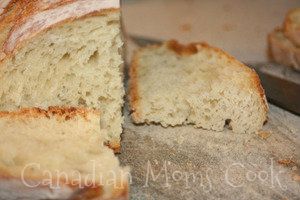 Step 2:
Whisk the following ingredients in a large bowl:
4 eggs
2 tsp vanilla
4 Tbsp milk
4 tsp milk (yes, we've mentioned milk twice)
dash of salt (if you like)
1 Tbsp real maple syrup
Step 3:
Dip bread slices into egg mixture a couple of a time making sure to flip them over at least once until they are fully covered and soaked with egg mixture.
Step 3:
Heat small amount of oil (we like coconut oil) in fry pan on medium heat.
Step 4:
Cook French Toast until both sides are golden brown.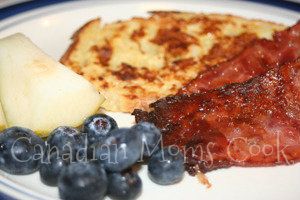 Family Thoughts:
My daughter has now decided that she doesn't *love* French Toast so she ate some of it, but not as much as she needed to fill up. She had a bedtime snack tonight!
My son, who is the picky eater, ate up his piece and then some. He loved it, even though he took one look at the bread earlier in the day and said, "Yuck".
I served this with turkey bacon and fruit! Yum!