I've made Homemade Hamburger Helper before, but didn't love how it tasted. However the concept of making hamburger helper without all of the chemicals is something that I wanted to master. When I came across the recipe over at a friend's blog, I was all over it! I immediately went out and bought all of the ingredients and planned to have it that night. After all, it was a skating night and we needed something quick and easy for dinner.
Original Recipe:
This recipe was featured on
Genuine Jenn
, a food blog that is well worth checking out in my opinion! Jennifer features wonderful meal plans, recipes and food posts!
The ingredients are simply including ground beef, water, milk, pasta, cheese and a few spices.
Our Changes:
This recipe calls for 1 Tbsp of chilli powder and my children do not love spice, so I cut this amount down significantly, possibly a bit too much!
Other than that one change, I made the recipe "as is".
Family Thoughts: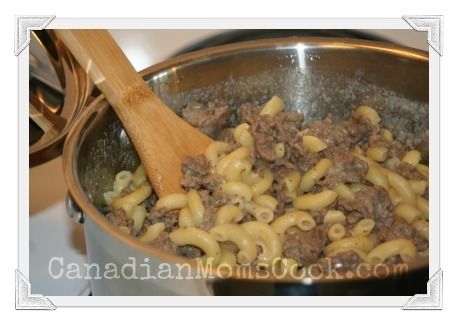 The family loved this recipe.
I love it because it was SO easy to make as a "one pot meal". I actually made it during the afternoon, cooled it off a bit in the pot and placed it right in the fridge to be heated up for dinner. Such easy clean up too!
My kids enjoyed this meal and after convincing my pickly little 3 year old eater to try it out, he ate his whole plate.
I am also happy to say that my husband quite enjoyed this meal too. Traditional Hamburger Helper used to be one of his staples when he was younger, so has always enjoyed this type of a meal.