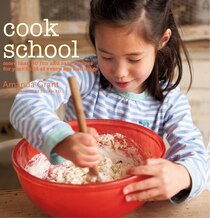 Recently, we had the chance to take a look at

Cook School
, a recipe book for children aged 3 to 11 by Amanda Grant.
With more than 50 recipes, this book is full of information, tips and recipes that are categorized according to a child's age group (3-5, 5-7 and 7-11).
This cook book truly is child friendly as it is full of beautiful photos of "how to's" and "steps", but it is also a great resource for parents. Each section has a page for Grown-Ups, providing adults with information about children of that particular age group and what they might be capable of doing in the kitchen. Each section also has a page that discusses various skills, including terminology that help the child learn HOW to cook. The book also goes into great detail about kitchen equipment and tools and what they are used for.
Each recipe is set up in a similar fashion, outlining the ingredients, equipment and directions. The recipes also have numbered photographs showing the steps required to make that given item.
There are a large variety of recipes in this book, some of them a bit too adventurous for my children who are on the more "picky" side of food.
Amanda Grant, the author, is a mother of three young children, food writer and broadcaster. Amanda has written a number of books mostly specializing in children's food and nutrition and family cooking.
This book is based out of the UK so if you are like me, you will require a measurement converter like
this one
in order to help you make these recipes.
---
We were provided with promotional materials free of charge, by the manufacturer or a representing PR agency, in the hopes that it would be mentioned on this blog. All opinions are our own.