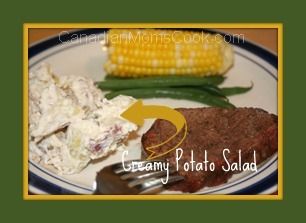 Original Recipe:
I was inspired to try out a recipe for
Creamy Potato Salad
that I found on
Yummy Mummy Club
. After going on a
Sobeys Shopping Trip
, I finally had all of the ingredients that were needed to create this mouth watering summer salad!
Original Ingredients Include:
mini potatoes
Miracle Whip
sour cream
shredded cheddar cheese
fresh chives, chopped
bacon, cooked and cut into bite-sized pieces
Coarse salt and pepper
Our Changes:
I didn't have any sour cream in the fridge (blame it on the Mommy brain), so I substitued it for Greek Yogurt. I would love to try it with sour cream as I believe it has a slightly more neutral taste.
I also didn't have any cheddar cheese, so I used a mozzarella cheese that I had pre-shredded in the fridge.
Family Thoughts:
Both my husband and I really enjoyed this salad. I kept a few potatoes plain for the children and lucky I did because my 3 year old wouldn't touch the salad, despite the fact that it had bacon in it. I was VERY proud of my 7 year old who typically doesn't enjoy creamy sauces. She tried one potato, but after giving it a solid try, she stuck to eating the plain boiled potatoes. This would make a great summer salad to bring to a friend's house for dinner or to a picnic (just remember to keep it cold to prevent spoiling!).
And now for the
Giveaway
!
One lucky reader over at
Multi-Testing Mommy
has the opportunity to win a
$100 Sobeys Gift Card
! What are you waiting for? Head on over and enter to win! Giveaway is open to
Canadian Residents
only and ends on July 31, 2012.