For as long as I can remember, my Mom's homemade Mac & Cheese was my comfort food. Whenever she asked me what
I
wanted for dinner, this would be my choice! The following recipe is a slight twist on my Moms, but it truly reminds me of my childhood. I hope that it will do the same for my children.
~Amanda
Homemade Mac & Cheese
INGREDIENTS:
1/4 cup butter
1/4 cup flour
3 cups milk
2 egg yolks
1/2 tsp salt
3 1/2 cups shredded cheddar cheese
1 375 gram box of maccaroni noodles (we like the Smart Pasta made by Catelli)
DIRECTIONS:
Step 1:
Bring a large pot filled with water to a boil. Add pasta and cook until desired consistency has been reached (approximately 10 minutes).
Step 2:
While pasta is boiling, melt butter in a medium sized pot over medium low heat. Once melted, add flour and stir constantly for 2 minutes.
Step 3:
Whisk 2 egg yolks and salt into milk. Slowly add milk mixture to butter mixture, stirring regularly. Cook over medium heat until sauce is thick (it should coat the back of a wooden spoon when it is ready).
Step 4:
Remove sauce from heat source and add cheese. Stir until cheese is melted.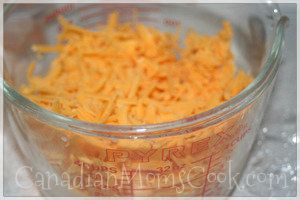 Step 5:
Drain pasta, return pasta to pot and stir in cheese sauce.
Step 6:
To make this dish even yummier, pour pasta mixture into an oven proof dish, sprinkle with shredded cheese and bake in a 350 degree oven for 30 minutes. Watch the top and cover with foil if the cheese starts to brown.
Family Thoughts:
The whole family gobbled up this traditional and simple recipe for Mac & Cheese! This is comfort food at its best!
Take #1:
I was rushing to make this dish and didn't read the recipe properly. I ended up using 2 whole eggs (whites and yolks) instead of just the yolks. The sauce ended up being a curdled mess, but I didn't realize this until I had mixed it all together.
This was take #1 of our Mac & Cheese meal: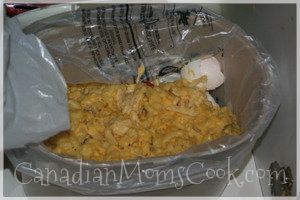 Have you ever had any food disasters that you would like to share with us?! We'd love to hear about them.