On Saturday during our weekly trip to the Farmer's Market I picked up some very ripe bananas with baking muffins in mind. When I went to pay for the bananas (and other finds) the clerk had overheard me telling my husband that I was going to bake muffins this week and asked if I had ever baked with buckwheat flour, to which I replied, I had not. He said that whenever he bakes he likes to add buckwheat flour to ensure that what he's making has at least some nutritional value. I, too, like to try to make my muffins as healthy as possible so I gladly took his advice and bought a container of the flour.
I had heard of buckwheat flour before but I didn't know anything about it, so of course, I Googled it when I got home. Wow, this stuff is good for you. I mean, really good. And it is wheat free (despite its name) and gluten free. It's packed with fibre, low in fat, full of protein and is rich in iron, potassium, calcium, phosphorus, zinc, selenium, manganese and magnesium. It also contains antioxidants. You can read more about buckwheat
here
.
In my research I discovered that because buckwheat is gluten-free it lacks the binding properties of other flours, so it is advisable to use guar or xanthan gum (super expensive!) or mix it with another type of flour. I chose to mix it with whole wheat flour for my banana muffins. I found a recipe for
Banana Oat Buckwheat muffins
that sounded good and got started on Sunday morning.
I modified the recipe a bit and doubled it (using half buckwheat flour, half whole wheat flour). In place of the vegetable oil I used unsweetened organic apple sauce. I do this often when I bake with great results. The recipe also called for 1 cup of mashed bananas, but I had 6 bananas so I mashed them and used all of them. It was probably more than 2 cups, but I find the more bananas you use, the moister your muffins turn out.
I first baked a dozen mini muffins with my toddler, Oliver, in mind, and then I baked a dozen regular sized muffins with chocolate chips with myself, teen and husband in mind! There was enough batter left over for another dozen minis, so little O will also get to sample minis with chocolate chips too.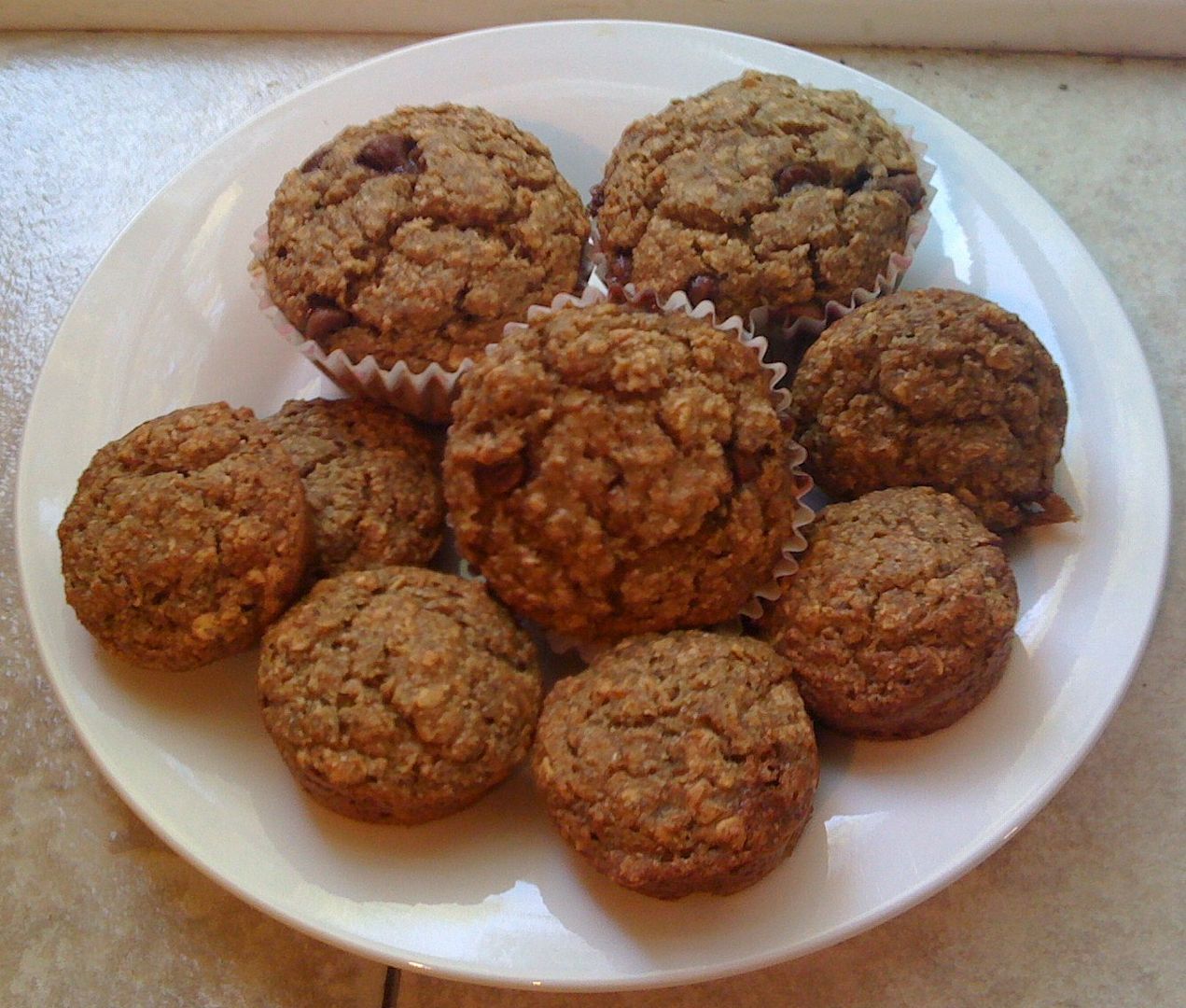 Here's my modified recipe:
What You'll Need:
¾ cup Buckwheat flour
¾ cup whole wheat flour
1 cup quick cooking oats
1/2 cup brown sugar
1 tsp baking soda
1/2 tsp sea salt
1 Egg
3/4 cup Milk
1/3 cup unsweetened apple sauce
1/2 tsp Vanilla
1-2 cups of ripe banana, mashed
1 cup chocolate chips (optional)
What You'll Do:
Combine the flours, oats, sugar, baking soda, and salt in a bowl.
In a separate bowl, lightly beat the egg. Stir in the milk, apple sauce, and vanilla. Add the mashed banana and combine thoroughly. Stir the flour mixture into the wet mixture until just combined.
Line a muffin tin with paper baking cups and spoon the batter into them. Bake at 375 °F for 16 to 18 minutes (depending on your oven, of course).
The result:
Fantastic! They are moist and delicious. Hubs tried one of the plain minis and said they were perfect. I sampled a regular sized muffin with chocolate chips and it was yummy. I will definitely make these again!
---
About Jennifer Alger Morse:
Jennifer is a married mom of two sons born 15 years apart (yes, you read that right!) living in Hamilton, Ontario. A lover of cupcakes, reading good (and not-so-good) books and all things food, she also spends her days working in the marketing department for a well-known franchise restaurant corporation. Jennifer loves to cook, is a firm believer in the importance of meal planning and likes to try at least two or three new recipes a week. Jennifer is also a member of the National Posts'
Gastropost
weekend feature section where you can read about her completed food "missions". You can also follow her on Twitter
@pennesthoughts
or on her blog at
A Penne For Your Thoughts
.