This recipe got its name from the fall colouring of the vegetables in the original edition. Since then it has evolved into a basic beef, rice and vegetable casserole.
When my husband and were first married, he came up with this amazing recipe. It's so yummy on a cold fall night!
Fallerole Recipe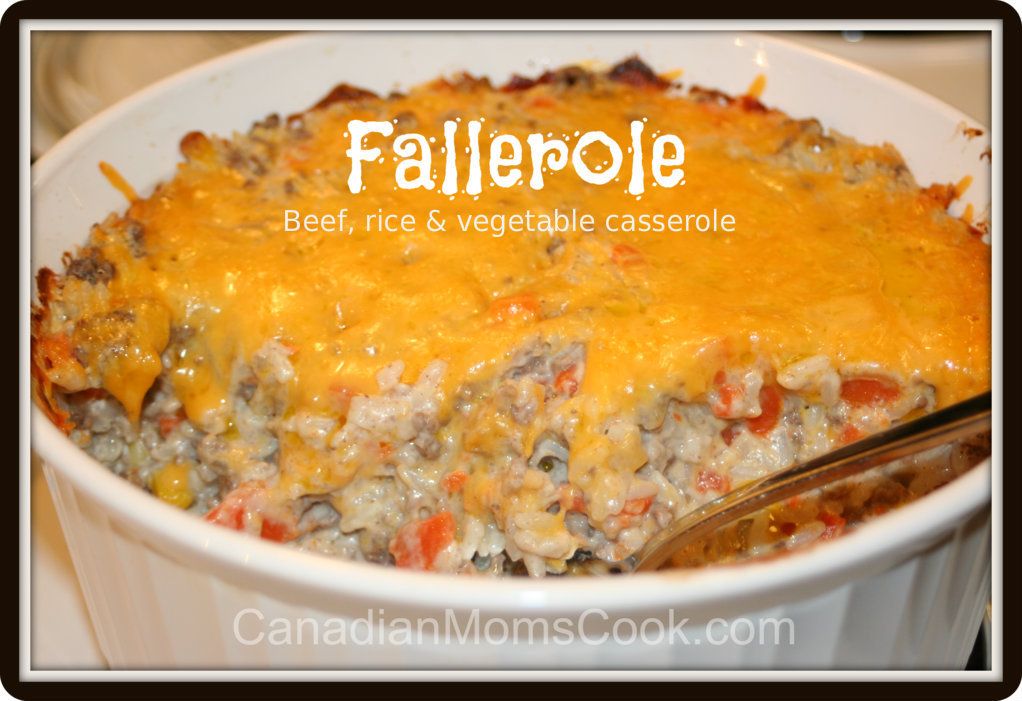 Ingredients:
1 pound of ground beef
1 large cooking onion
2 cloves of garlic, rasped or finely chopped
2 tablespoons olive oil
1 tablespoon butter
1 cup rice, rinsed (uncooked measurement)
1 green pepper
1 red pepper
1 yellow pepper
1 orange pepper
1 cup frozen corn
1 bunch of carrots
1 can cream of chicken soup (we use reduced fat)
500ml sour cream (we use fat free)
2 cups (approx) shredded cheddar cheese
Step 1:
Chop peppers and carrots and steam, along with the corn, until all vegetables are cooked well. Set aside.
Step 2:
Boil rice as instructed on the packaging. Set aside.
Step 3:
Chop onions and in a skillet, add onions and garlic, and cook in butter and oil until onion is translucent. Add ground beef and cook until no trace of pink remains. Drain fat. Set aside.
Step 4:
In a large mixing bowl combine the soup and sour cream and mix well. Add beef and onions, vegetables and rice and mix well.
Step 5:
In a casserole dish, add approximately ½ the rice/beef/veggie mixture and level off. Add ½ the shredded cheese. Add the remaining mixture and top with the remaining cheese.
Step 6:
NOTE: The casserole can be frozen at this point.
Bake at 350°F for 1 to 1 ½, or until hot throughout and bubbling.
Tips for Making this a Faster and Easier Dish:
Use approximately 3 cups of frozen vegetables (steamed or boiled) in place of the chopped, fresh vegetables.
Cook extra rice one night and use the left over rice for this casserole.
Family Thoughts
We love this fun Fall Casserole that my husband makes for us! It is a great way to get the children excited to eat their colourful vegetables!
We find that this casserole freezes really well and is so delicious to cook on a cool fall evening!