Did you know that this week is
Turkey Comfort Food Makeover Week
?
With Christmas approaching, we find ourselves looking forward to our next large family meal together where we will enjoy turkey. Turkey is delicious and nutritious and if you cook a large one, there are plenty of opportunities and ideas for how to use up your left overs.
The following recipe is something that I associate with Thanksgiving and Christmas time as my Mom always uses her turkey leftovers to make this yummy casserole!
Recipe: Mom's Turkey Divine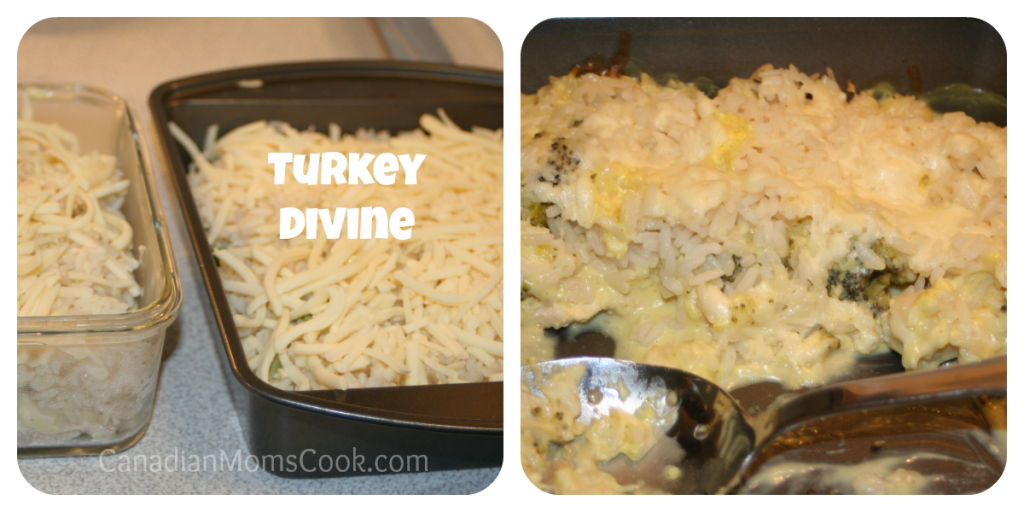 Ingredients:
cooked Canadian turkey (leftover dark or white meat OR freshly poached), sliced or chopped (equivalent to approximately 1-2 pounds of meat)
1 bunch of broccoli washed and sliced into medium sized pieces
1 can cream of chicken soup (we use the reduced fat ones)
1/2 cup mayo (we use low fat)
1 tsp lemon juice
1/4 tsp curry
1/2 cup sour cream (we usually use light or no fat)
Approximately 1 cup shredded mozzarella cheese
Step 1:
Poach turkey breast (see instructions below for how do this).
Step 2:
Lightly steam broccoli.
Step 3:
Slice or chop turkey breast.
Step 4:
Mix sauce ingredients together.
Step 5:
Shred cheese.
Step 6:
Place broccoli on bottom of greased 9x13 pan.
Place slices/pieces of cooked turkey on top of the broccoli.
Step 7:
Pour sauce mixture over broccoli and turkey.
Step 8:
Cover with shredded mozzarella cheese.
Step 9:
Cover with loose foil and bake in 350 degree oven for approximately 45 minutes or until hot and bubbly.
Note: To make this a more filling dish, feel free to steam rice and add a layer of rice at the bottom of your casserole dish/pan.
How to Poach Turkey Breast
Step 1:
Place turkey breasts in a large sized pot so that they lie in one layer.
Step 2:
Cover turkey with water (covering approximately 1 inch above the meat).
Step 3:
Add a stock cube if desired for additional flavour.
Step 4:
Cover pot with a lid and bring water to a boil.
Step 5:
Leave lid partly on and turn heat down to a light simmer (only a few bubbles rising to the top) for 10 minutes.
Step 6:
Cover pot with lid and let sit with burner OFF for approximately 15 minutes or until turkey reads an internal temperature of 165°F (74°C).
---
Be sure to visit the
Turkey Farmers of Canada Website
for some wonderful turkey recipes including ideas for sandwiches, meals and appetizers!
Turkey Farmers of Canada - Facebook
@TastyTurkey
GIVEAWAY
Prize: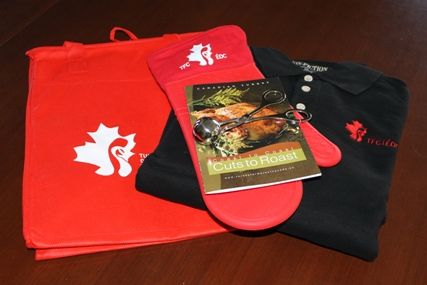 one zippered, insulated grocery bag
one silicone oven mitt
one meatballer with recipe card
one Coast to Coast recipe booklet
one TFC Non-Fiction sweatshirt (size: small, medium or large)
Open to Canadian Residents
Giveaway ends November 21, 2012
a Rafflecopter giveaway
---
CanadianMomsCook.com received some promotional products from Turkey Farmers of Canada. All opinions belong to Canadian Moms Cook.